Live On | LIFE & LEGACY™
Live On | LIFE & LEGACY™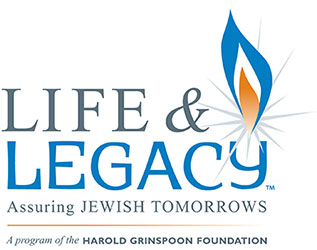 Congregation Rodef Shalom is excited to announce that we have been selected to participate with 27 other local Jewish organizations in Live On | LIFE & LEGACY™, a program that supports Jewish organizations in securing legacy gifts.
Live On: Build Your Jewish Legacy, an initiative of Rose Community Foundation, and LIFE & LEGACY™, a partnership program of the Harold Grinspoon Foundation, have joined together to strengthen the Greater Denver/Boulder Jewish communities by encouraging endowment building and legacy giving. Live On | LIFE & LEGACY™ provides training, support, and incentive grants to the participating organizations to encourage legacy gift solicitations and donor commitments that will benefit Jewish organizations for future generations.
Thank you to over forty Rodef Shalom members who have already committed to participate in this important program!
Please contact Michele Campbell, Executive Director for more information.
Click HERE to access the Declaration of Commitment form
---
Legacy Plan Case Statement
Congregation Rodef Shalom has been a mainstay in our Jewish community for more than 60+ years as a Conservative egalitarian synagogue. We are a Bet Amma (House of the People) and a Bet Knesset (House of Assembly) that meets the needs of Jews spiritually, ritually, intellectually, and socially.
We are welcoming, accepting, participatory, and inclusive of a wide-array of different Jewish practices, ideologies, family structures, gender expressions and ethnic backgrounds. We maintain Jewish traditions while being open to and experimenting with changes designed to make our community feel like a family. While we express many voices, we are one community.
We provide educational, social, spiritual, lifecycle and other impactful and meaningful services to our families. These services create a profound sense of community in times of great joy, significant challenges, and any time in-between.
The impact of our open approach is that we truly care for each other, have significant community partnerships, and are an extremely active and engaged community. At Rodef, ideas are listened to, and individual members can affect change and are actively involved in areas of interest to them. This is a major reason why families remain at Rodef for multiple generations.
Rodef Shalom also practices its values. Having been focused on gender equality since 1956, we are the first and only Conservative synagogue in Colorado to hire a female Rabbi.
Our innovative youth education program is focused on providing a modern day Jewish education in which skills and understanding are taught in an engaging and fun environment. The model works. Parts of the program were replicated in the second year of the new program. Our children emerge from this program knowledgeable and connected, and willing and able to choose to be Jewish in a world where practicing Judaism is a choice.
Our legacy donors are dedicated and committed individuals, just like you. They have participated in the vibrant Jewish life centered at Rodef Shalom, and they want to pass on that legacy of openness, equality, and caring to ensure that future generations feel connected and part of our welcoming family, community and the Jewish people. Please join us!
Fri, July 20 2018
8 Av 5778
Upcoming Programs & Events
---
Erev Tisha B'Av & Shabbat Hazon
View Calendar
Update this content.
Contact Us
Congregation Rodef Shalom
450 South Kearney Street
Denver, Colorado 80224
Office: (303) 399-0035
Fax: (303) 399-7623

Office Hours:
Mon - Thurs 9 am - 4 pm;
Friday 9 am - Noon
Fri, July 20 2018 8 Av 5778