QUICK LINKS...
Rabbi's Blogs
Balak
July 4, 2015 - 16 Tammuz 5775
Light Candles: 8:13pm
Shabbat Ends: 9:12pm
Torah / Annual Cycle: Numbers 22:2 - 25:9
Torah / Trienniel Cycle: Numbers 22:39 - 23:26
Haftarah: Micah 5:6 - 6:8
RODEF SHALOM EVENTS
JULY 2- JULY 8...
Tuesday, July 7:
Trip to Evergreen Lake, 9:30 AM, Pickup at Rodef Shalom
Tuesday, July 7:
Minyan on the Move, 6:30 PM, at the home of Fredie Halvorsen.
GOOD & WELFARE...
Mazel Tov / Congratulations to ...
Marcus & Heather Oginsky, Gary & Roni Ogin on the Bar Mitzvah of their son and grandson Zehariah
Jamie & Leanna Harris, Allan & Alberta Sulzer on the Bat Mitzvah of their daughter and granddaughter Fiona
Rabbi Stephen Booth-Nadav & Jan Cooper-Nadav on the Bat Mitzvah of their daughter Ariella
Deanna Simon on the Bat Mitzvah of her granddaughter Sydney
Susie Perlman on the engagement of her daughter Giordan to Steven Rockwell
Refuah Shlaymah to ...
Joel Miller
Condolences to ...
Shirley Epstein on the passing of her granddaughter, Tashe Haese.
MEMBERSHIP RENEWAL FORMS DUE NOW!
We would very much appreciate your returning the dues renewal form that you recently received in the mail to Rodef Shalom right away. If you have any questions about your 2015/16 dues, please call Michele, the Executive Director, at 303-399-0035 or
This email address is being protected from spambots. You need JavaScript enabled to view it. .
Thank you for your generous support of our wonderful community!
Trip to Scenic Evergreen Lake and Willow Creek Restaurant
Tuesday, July 7, Pickup at 9:30 am at Rodef Shalom
Eat at one of the top ten places in the US to eat, shop in cute boutiques and view the gorgeous Evergreen Lake! RSVP: Sara 720.382.7842
Shabbat Under The Stars
Friday, July 10, 7:00 PM, Meditation Garden
Welcome Shabbat this summer with prayer and song in a beautiful setting, with engaging melodies-old and new. All ages welcome. Delicious Oneg Shabbat. For more information contact Cantor Saul, 303-748-4815 or This email address is being protected from spambots. You need JavaScript enabled to view it. .
Frauds, Scams & Identity Theft
Wednesday, July 22, 11:00 AM, Rodef Shalom Library
How to Protect Yourself from Frauds, Scams and Identity Theft from a representative of the Denver DA's office. In cooperation with Kavod On the Road. Free and open to the community! Information: 303-399-0035. Click
HERE
for Flyer.
Smokey Joel's Kosher BBQ
Sunday, August 23, 5:00 - 7:00 PM, Silo Park,
9300 E. Orchard Rd, Greenwood Village, 80111
Enjoy a delicious BBQ and support the family, youth and Shabbat programs at Rodef Shalom, JCC South & JOI. Click
HERE
for details and the menu.
Get Involved
Gift Shop


Do you need wedding, B'nai Mitzvot, holiday ritual and unique gift items? Come to your gift shop! Each purchase is a direct donation to the synagogue. Thank you! - The Barbaras
Bingo
Help Rodef Shalom get it's game on. We need 6-8 volunteers for our weekly Sunday Bingo session. Contact Gayle Bush or to sign up, click
here
.
Plaques and Leaves
Memorialize a loved one and support Congregation Rodef Shalom.
Have a bronze memorial plaque engraved with their name and the date of their death. The light by the plaque is illuminated for the week of their yahrzeit. Cost: $500.
Engrave a leaf for the Tree of Life in the Sanctuary. Cost: $180.

Hearing Assistive Devices
Rodef Shalom now has hearing assistive devices available to congregants. They are located in a small 3 drawer unit on the far right of the glass shelf to the right of the sanctuary doors in the lobby. For more information, contact the office.
Toy Bags for Children during Services
For those who are unaware- outside of the main sanctuary at Rodef Shalom there is a rack with a bunch of "toy bags" for children to bring into the sanctuary and stay busy- the bags were made by Heather Oginsky. THANK YOU! If you have items to contribute to the bags or you would like to buy some, contact me for pickup/dropoff.Some good item suggestions include things like: travel size magnadoodle, magnetic tin toys, wooly willy, board books, lacing cards, squishy toys, magnetic paper dolls like this. Alternatively, you can provide a donation for the Young Families team to purchase some items, use the link for the Tot Shabbat fund and indicate that the gift you should be allocated for toy bag updates.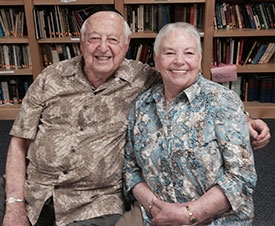 Bernie and Naomi Raphan met 41 years ago at a Yom Kippur "Break-the-Fast" dance in New York City. They married 10 years later and have since lived in Manhattan, Wellington (FL), Saratoga Springs (NY) and now, Denver. Bernie, who has lived 82 of his 92 years in Manhattan - not Queens, or Brooklyn he adamantly points out, but Manhattan - became the "man of his house" at age 10 when his father died. He learned to lead services at an Orthodox shul as a child and many years later was the president of another Orthodox synagogue. He became a lawyer primarily because the military paid for it when he finished serving in 1946. (Bernie served in the infantry at the Battle of the Bulge.) Naomi, who considers Teaneck (NJ) where she grew up, worked for the United States Chamber of Commerce where she was the first Jewish female in a management position and in her 50s decided she wanted to become literate in Hebrew so she could chant the Haftorah. Between them they have five children (Melissa, Benita, Barbara, Marc and Karin) and nine grandchildren. Bernie and Naomi are both regulars at Shabbat morning services where you can find them in the second row in front of the Rabbi's lectern. They joined Rodef because every contact they had - with Brenda in the office, Executive Director Michele Campbell and Rabbi Gerson - was "warm, helpful and welcoming. We knew this was the place for us." Show the Raphans how much we love having them here by saying hello next Shabbat.
From the Merenstein/Steinberg Family to our friends at Rodef Shalom....
Many thanks for everything you did to honor our family in May, at the Annual Event. Your donations in our honor, your ads and special messages in the tribute journal, and your countless hours spent volunteering on various projects: everything helped to make the annual event so very special and meaningful for us. We are indeed so grateful to be a part of the family that is the Rodef Shalom community.
Thank you,
Bonnie, Ray, Ilana, Ely, Hannah, and Shira

GOOD SCENTS - Please be considerate of others and refrain from using scented products when coming to pray.
Disclaimer
Events outside of Rodef Shalom are listed for your information and are not necessarily endorsed by Rodef Shalom.
Help Leket Israel Feed Israel's Needy in Honor of Israel Independence Day ...
Those of us who heard Rabbi Marc Gitler's presentation at Shabbat Services on April 18 were sensitized to the acute need for hunger relief in Israeli society.
In honor of Rodef Shalom, a link has been created for donations to Israel's National Food Bank.
Help Leket Israel Feed Israel's Needy This Yom Ha'atzmaut -
See more here.

CAJE Adult Education:
The Greatest Challenge to Judaism and How to Overcome It...
Wednesdays in July, 7:00 - 8:30 PM, CAJE, 300 South Dahlia St., Denver.
$20 per session, or $90 for all five sessions.

The Jewish Women's Theatre Company presents...
Joseph and the Amazing Technicolor Dreamcoat
Sunday, August 16, Two performances 1:00 and 3:00 PM, Logan School Theater, 1005 Yosemite St. Denver
Hazon Colorado 2015 Scholarship Opportunities
Hazon offers scholarships to people from the Denver and Boulder areas for multi-day Hazon events happening around the country and in Israel. Get inspired by national programs and like-minded leaders!
Click
here
for more information.
USY Youth Trips to Israel
click
here
for more information.
Jewish & Widowed Travel Group
Are you interested in group travel with other J&W members and friends? Sherry Goodman has organized an incredible trip to Dubrovnik and would love for you to join!
Dubrovnik & Beyond from the Adriatic to the Alps (visiting Croatia: Dubrovnik, Split, Opatija; Slovenia: Bled & Ljublijana) - 14 Days, August 2015
For tickets contact Sherry Goodman at This email address is being protected from spambots. You need JavaScript enabled to view it. or call 303.972.0858.
Jewish Baby University Events
Click
here
for complete listing of events.

PJ Library
FREE Children's books for Jewish children ages 6 months to 5 years old! PJ Library is now available to families in Colorado to receive one FREE book per month! The first books are scheduled to be mailed in July. Don't miss out on this amazing opportunity! Enroll
here
.
Rodef Shalom Annual Event
L'Dor V'Dor: Celebrating Families Through the Generations
Honoring the Multi-Generational Involvement of
The Merenstein/Steinberg Family
Bonnie, Ray, Ilana and Children
The Feldman/Richardson Family
Marvin, Marlene, William, Lisa, Shawn, Courtney,
Scott, Juli and Children
Our Annual Event was a Smashing Success. Thanks to everyone who attended and contributed. Special Thanks to Our Sponsors!
Greatest Generation: Bonnie Merenstein

Baby Boomer: Allan Kantrowitz & Judy Fishman

Generation X: Joel & Nancy Merenstein, Eric Elkins

Generation Y: Rabbi Sandra & Ben Cohen, Les Davidson, Dan Hyman & Martha Sack, Ray Merenstein & RDM Communications, Randy & Michelle Brunschwig

Millennial: Centennial Bank, Rosenthal Family, Denver Jewish Day School 10th Grade, Berdine Clumpus & Deanna Simon, Alan Katz & Simona Yuffa, Don Becker & Becker Copier Service, David & Laura Ross, Leslye Prum, Gary & Roni Ogin, Allan & Alberta Sulzer
Thank you to all the wonderful people who volunteered their time to make our Annual Event such a success:
Barbara Zimmerman

Elaine Tinter

Roni Ogin

Barbara and Hal Raizen

Leslie Tjarks

Anita Wenner

Deanna Simon

Ruth Epstein

Kay Shaw

Berdine Clumpus

Sherrie Davidson

Alan Katz

The Honoree families: including Marvin Feldman's Encore Music band and Ray Merenstein and Ilana Steinberg

David Ross

Marty Zimmerman

Gayle Bush

Scott Richardson

Barbara Robbins

Marcus Oginsky

Linda Reitz
Thank you to our Tribute Book Advertisers:
Blum, Sanders, Stiches & Topelson Families

Michael & Hedva Weinberg

Les Davidson

Deanna, Alberta, Gail & Leslie

Joel & Nancy Merenstein

Dan Hyman & Martha Sack

Pomeranz Family

Carl & Amy Boymel

Weissman Family

The Harris Family

Rabbi Bernard and Susan Gerson

A special thank you to all the Rodef Shalom staff for their expertise!
Event Slideshow