QUICK LINKS...
Rabbi's Blogs

Vayetze
November 21, 2015 - 9 Kislev 5776
Light Candles: 4:22 PM
Shabbat Ends: 5:21 PM
Torah / Annual: Genesis 28:10 - 32:3
Trienniel / Year 3: Genesis 31:17 - 32:3
Haftarah: Hosea 11:7 - 12:12
SECTIONS...
GOOD & WELFARE...
Mazel Tov to ...

Marty & Shira Zimmerman, parents, to Barbara & Steve Zimmerman and Marlene Richter, grandparents, on the Bat Mitzvah of Alyssa Zimmerman

Marcia & Gary Blum on the marriage of Jesse to Catie Sawyer
Toby & Morton Mower on being featured in the "Senior Lifestyles" section of the Intermountain Jewish News

Refuah Shlaymah to ...

Jan Ferrada
Join Cantor Saul and Rabbi Gerson in the synagogue sanctuary for Shabbat services accompanied by the musicians and singers of Shir Rodef. A parallel service, led by congregation members, will take place in the Chapel in the Mizel Building. Our whole community will join together in the social hall for Kiddush following services. You can listen to and learn melodies for the musical service on
our website! Information: 303-399-0035.
Shabbat With a Backbeat Upcoming Dates
Rodef's Shalom's online auction starts this Friday, November 20th! Check out our awesome items including a 2015-2016 officially licensed Broncos football signed by Von Miller, Ronnie Hillman, TJ Ward, Brandon Marshall and other team players, a personalized song for a special occasion or someone special, a Kahlua fudge cake that serves 12, Kosher pareve baked byy Sue Gerson, jewelry, gift cards and more. Perfect for Chanukah gifts! This is Rodef's one online auction - please support us. Click HERE to access. The auction runs through December 4th, so don't wait!


Tuesday, November 24, at the Home of
Fredie Halvorsen
Minyan on the Move is a traveling weekly minyan bringing the experience of Mincha or Ma'ariv to the community. Every Tuesday evening, the location varies between members' homes. Call the office for more information or to be placed on a mailing list. If you would like to host an evening, please contact the office at 303-399-0035 or Kay Shaw.
SHABBAT BEGINNINGS:
Welcoming Shabbat with Spirit and Song
Friday, November 27, 6:30 PM, Rodef Shalom
Lend us your voice and your energy in this Kabbalat Shabbat service. The evening will begin with snacks and discussion of the Weekly Torah Portion, to be followed by the davening, led by Rabbi Gerson and Rodef member. Transliteration pamphlets will be available for full inclusion. Free and open to the community. Future dates: December 11 & 25.
Learn About Ramah Shabbat
Saturday, December 5, 12:00 noon, Rodef Shalom Library
Rabbi Eliav Bock, founding director of Ramah Outdoor Adventure, will speak on Shabbat, December 5 in the Library at 12:00 noon on the many rewards of sending a child to Camp Ramah. Many of Rodef Shalom's Ramah campers and alumni, led by Henry Waldstreicher, will be present to add about their own experiences. Rabbi Gerson will offer information pertaining to scholarship options. Kiddush food items will be furnished, for everyone's convenience.
Purim Shpiel
Open auditions for "Give My Regards to Shushan," the Denver Community Purim Shpiel, are on Wednesday, December 9, 2015, 6:00 PM, at Congregation Rodef Shalom and Sunday, December 13, 2015, 3:00 PM, at the HEA.
All ages and talent levels are encouraged to audition. Contact Leah Peer ( This email address is being protected from spambots. You need JavaScript enabled to view it. ) to RSVP for auditions.
Anyone auditioning for a singing part needs to prepare a short tune, preferably from a Broadway show. Speaking, non-singing, and other parts are available, but need to attend an audition.
Rehearsals begin January 3rd. The Community Purim Shpiel will be presented on March 20th at 4:00 pm, at the Hebrew Educational Alliance. It is free and open to the entire Jewish community.
For more information about the shpiel, please call Michael Raizen, 303-548-4061.
Rabbi's After Kiddush Tish
December 12, 12:30 PM, Rodef Shalom
Join Rabbi Gerson for songs, spirit and study. Free and open to all.Information: This email address is being protected from spambots. You need JavaScript enabled to view it. or 303-322-0150.
60th Anniversary Israel / Chanukah Cocktail Event
Saturday, December 12, 7:00 PM, Rodef Shalom
The community is invited to
make your reservations now
the first of five in the year-long series of programs celebrating Rodef Shalom's 60th Anniversary. This event will feature a Wine and Cheese Cocktail Party, a presentation of the multi-award winning film, "The Band's Visit" with an introduction of and commentary by Denver's new Israel Shlicah, Osnat Fox. Advance reservations are strongly requested. Cost: $40 per person with discount tickets for the entire series available for $180.60. RSVP
HERE
. Click
HERE
for more information on all the 60th Anniversary events.
Laughter Yoga
Tuesday, December 15, 2:00 PM, Rodef Shalom
Join us for an international phenomenon to get your belly laughs going. Faux laughter creates real laughter which boosts your overall health! In cooperation with Kavod on the Road. Presented by Sara Shvartzman. Free and open to the community. Reservations appreciated. Information: 303-399-0035.
Rodef Shalom 60th Anniversary:
Share Your Memories
Did you realize that this year we are celebrating the 60th Anniversary of our congregation? Quite a milestone indeed! You can help us with our big end of year celebration by sharing your significant or memorable photos of the Rodef Shalom building, congregants, special events and more. Was your wedding, b'nai mitzvah, confirmation or other important event held at Rodef Shalom? Please consider sharing your photos with us! If you have them digitally - great! If not, we would be happy to scan them. Please help us recreate Rodef Shalom's history in photos and/or memories! Thank you!
8 Crazy Nights - A Chanukah Event
Is it too early to think about Chanukah? We think not! We hope to offer to our entire congregation an opportunity to share in the lighting of the chanukiah in a fun, casual and heimishe way. Each night, we will offer host homes that others may join for candle lighting, dessert and fun socializing. The more the merrier! Would you consider hosting an evening? Details could be up to you. Please contact Fran Cohen at This email address is being protected from spambots. You need JavaScript enabled to view it. or (303) 337-3460 to find out more information or to offer your home. Thank you!
Rodef Music Underground is Coming...Mark your Calendars!
These Events are for You, Hard-working Mom's & Dad's and whoever Loves Music, Meeting New People, and a Great Time.
Get Your Baby Sitters, Grab Your Friends, Get Ready to Eat Some Amazing Food, Get Ready to Rock and Roll!
The #1 and Only Musical House Concert Series in Denver is Starting Soon:
The 1st Event is Saturday Night, December 26, 2015, and More to Come!

Youth Programs During Shabbat Services...
Babysitting Services
Babysitting Services are now available at Congregation Rodef Shalom from 9:30 am - noon during Shabbat Services in the first Preschool Classroom. Please come and join us!
Tot Shabbat
Calling All Families and Kid's Who Love Shabbat and of Course our Feather Friend T'Fillah Toucan. Every Shabbat 11:15 AM at Rodef Shalom! Join a great group of friends and family for the Highest Rated Tot Shabbat in Denver (Voted on by a a highly scientific Gallup Poll of course). Bring your Fun, Bring Your Friends, Bring Your Noise, Bring Your Jungle Adventure. Be Ready for a Super Shabbat Story!
Mini Minyan
Our Mini Minyan program for 4-7 year olds is at 11:15 AM in the Youth Lounge.
Join "Dan the Music Man" for Shabbat songs, games and books.
Saturday, December 12, 12 - 1:00 PM, Rodef Shalom
A great program geared towards children between Mini-Minyan & B'nai Mitzvah ages!
Gift Shop

Do you need wedding, B'nai Mitzvot, holiday ritual and unique gift items? Come to your gift shop! Each purchase is a direct donation to the synagogue. Thank you! - The Barbaras
Bingo
Help Rodef Shalom get it's game on. We need 6-8 volunteers for our weekly Sunday Bingo session. Contact Gayle Bush or to sign up, click
here
.
Plaques and Leaves
Memorialize a loved one and support Congregation Rodef Shalom. Have a bronze memorial plaque engraved with their name and the date of their death. The light by the plaque is illuminated for the week of their yahrzeit. Cost: $500. Engrave a leaf for the Tree of Life in the Sanctuary. Cost: $180.

Hearing Assistive Devices
Rodef Shalom now has hearing assistive devices available to congregants. They are located in a small 3 drawer unit on the far right of the glass shelf to the right of the sanctuary doors in the lobby. For more information, contact the office.
Good Scents
Please be considerate of others and refrain from using scented products when coming to pray.
Disclaimer
Events outside of Rodef Shalom are listed for your information and are not necessarily endorsed by Rodef Shalom.

Thursday, November 19, 6:30 PM, Bais Menachem Social Hall, 400 S. Holly St.
Bais Menachem invites the community to a full course Israeli-Moroccan dinner and special talk on her out of body experience by special guest speaker Stephanie Arnold, author of 37 Seconds. Stephanie will discuss her story of dying for 37 seconds after giving birth and what she saw for those 37 seconds.
Her riveting story is a medical drama with heavenly implications in which a woman receives premonitions of her death that come true, and her discovery of the heavenly help available to all of us. Her message is that we are not alone and have more loving help than we can imagine surrounding us. There is a charge ($25/pp or $180 to sponsor). RSVP by Nov. 17 by calling Erin, (303) 329-0213 or HERE. Copies of her book will be sold.

Shalom Cares Holiday Bazaar
Friday, November 20, 2015 from 10 am to 3 pm
Shalom Park Community Room
14800 East Belleview Drive, Aurora, CO 80015
Please contact Jody Neumann at 303.400.2205 or This email address is being protected from spambots. You need JavaScript enabled to view it. for more information.

Hello Dolly! at Candlelight Dinner Playhouse
Sunday, January 17,12:30 PM Pick-up at Rodef Shalom (for a 2:00 PM show)

Dolly Levi is a delightful scheming busybody who makes her living as a matchmaker in the glamorous 1800s New York at the turn of the century. Winner of 10 Tony Awards, including Best Musical, Best Original Score, and Best Choreography. RSVP/Questions: Sara (720) 382-7842 or This email address is being protected from spambots. You need JavaScript enabled to view it. . $35 (includes transportation). Advance reservations required. Open to the community!
A Jewish Response to Addiction & Recovery
We are pleased to announce that we are starting to offer All Inclusive weekly addiction support groups for individuals and their families suffering from addictions.
Weekly meetings:
Thursdays at Temple Sinai, 7:00 PM

Tuesdays at BMH/BJ , 7:00 PM

Tuesdays at Har Ha Shem Narcotics Anonymous, 6:30 - 7:30 PM

Monday at Har Ha Shem Overeaters Anonymous, 12-1:30 PM
For information please call Betsy 720 941 2655 or email This email address is being protected from spambots. You need JavaScript enabled to view it. .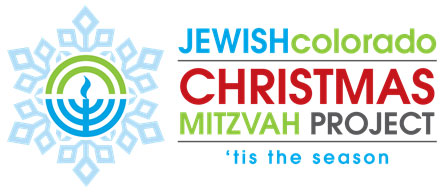 Sign-up NOW to volunteer with the JEWISHcolorado Christmas Mitzvah Project! Join this community wide effort and lend a hand to local hospitals, local hospitals, assisted living facilities, shelters and other organizations over the Christmas holiday. We will match you with a project on either
December 24
or December 25
. No special skills are required. Examples of volunteer tasks include preparing meals, collecting gifts, answer phone calls, facilitating activities and staffing gift shops.
Click here
to sign up to volunteer. Please invite your friends and family to join you. The more the merrier! Questions, please contact Laura Don,
This email address is being protected from spambots. You need JavaScript enabled to view it.
/ 303-316-6476.
Jewish & Widowed Upcoming Events
J&W Movie Group
Sunday, November 22 (4th Sunday of the month), 4:00 PM, Golden Shanghai:1412 S Parker Rd
Join the J&W movie group to discuss current films in the theatre! Our movies for this meeting are:
Bridge of Spies
Truth
Suffragette
We may also discuss Labyrinth of Lies
Questions: Ivan Beckoff at (303) 333-7123 or email This email address is being protected from spambots. You need JavaScript enabled to view it.
Singles Lunch December
Friday, December 4, 12:30 PM, Pascal Trumpeau Bakery, 2950 South Broadway, Englewood 80113
RSVP by December 30th to Cynthia Land at This email address is being protected from spambots. You need JavaScript enabled to view it. or (303) 506-8632
Hazon Colorado 2015 Scholarship Opportunities
Hazon offers scholarships to people from the Denver and Boulder areas for multi-day Hazon events happening around the country and in Israel. Get inspired by national programs and like-minded leaders! Click
HERE
for more information.
Jewish Baby University Events
Click
HERE
for complete listing of events.
JCC Warm Welcome Offer
Are you a new parent? Maybe you're even new to the Denver area and would like to be more connected to others? Please consider scheduling a playdate or Warm Welcome through the JCC. A Warm Welcome visit offers caring support, a connection to community resources, a way to meet other new parents, and a gift bag that includes information on child development and parenting skills - all this and more through a Warm Welcome visit from a trained volunteer. There is no charge for this service. Click
HERE
if you would like to receive a Warm Welcome Visit or attend one of our play dates.
PJ Library
FREE Children's books for Jewish children ages 6 months to 5 years old! PJ Library is now available to families in Colorado to receive one FREE book per month! The first books are scheduled to be mailed in July. Don't miss out on this amazing opportunity! Enroll
HERE
.