QUICK LINKS...
Rabbi's Blogs

Bereshit
October 10, 2015 - 27 Tishrei 5776
Light Candles: 6:10 pm
Shabbat Ends: 7:09 pm
Torah / Annual: Genesis 1:1 - 6:8
Trienniel / Year 3: Genesis 5:1 - 6:8
Haftarah: Isaiah 42:5 - 43:10
SECTIONS...
GOOD & WELFARE...
Mazel Tov to ...
Neil & Laurie Segall on the birth of their grandson, Levi Arthur Segall (son of Justin & Marcia)
Naomi & Robert Fieman on the marriage of their daughter, Rachel, to Kyle Davison.
Refuah Shlaymah to ...
Heather Kessler
Nathan Pierce
Bernie Raphan
Sing-a-long with Shir Rodef

Sunday, October 11, 3:00 PM

Learn the melodies and rhythms of our Shabbat with a Backbeat service three ways:

You can listen to melodies through Rodef Shalom's website.

Come to a sing-a-long with Shir Rodef on Sunday, October 11 at 3 p.m. at Rodef

Attend services on the third Shabbat of each month beginning on October 17.
Contact Cantor Saul,
This email address is being protected from spambots. You need JavaScript enabled to view it.
or 303-748-4815 for more information.
Shabbat With a Backbeat Returns
Saturday, October 17
You are invited to the Main Sanctuary for Preliminary and Shacharit prayers accompanied by the musicians and voices of Shir Rodef. A parallel service without instruments will take place in the Chapel in the Mizel Museum building. After Shacharit, and without instruments, we will all join together in the Main Sanctuary to celebrate Sam Jacobs' Bar Mitzvah. All ages are welcome to participate. You can listen to and learn melodies for the musical service on
our website

!

Information: 303-399-0035.
Shabbat With a Backbeat Upcoming Dates
- October 17
- November 21
- December 19
- February 20
- March 19
- April 16
- May 21
Annual Auction

Congregation Rodef Shalom is having our annual online auction from November 20 - December 4, so there will be items to buy for Chanukah! The auction is a major fundraiser for our congregation. Proceeds will go toward a variety of programs to benefit our Early Childhood Education Center, youth and families. We are asking congregants and friends to help obtain items for the auction by going to your favorite businesses and asking if they will provide a gift certificate. This
i
ncludes restaurants, beauty salons, other retail establishments and businesses. Click
HERE
for the cover letter and auction donation form. Please take a moment to download the forms and carry them with you. Please bring or send your gift certificates to the Rodef Shalom office by Monday, November 9th. Your help and support are invaluable to our wonderful Jewish community. THANK YOU!
Adult B'nai Mitzvah Class Coming Soon ...
Rabbi Gerson is seeking interested participants for an Adult B'nai Mitzvah Class which will be launched later this Fall. The class will be team taught with Marlene Richter and will meet on a mutually convenient night for all of the students. Participants will engage in some serious study of Jewish texts and ideas, in addition to acquiring skills for some role on the bimah. Please call or email the Rabbi if you are interested or have questions.
End of Shabbat Schmooze
Saturday, October 10, 6:00 PM. Rodef Shalom
Discuss timely issues of Jewish Importance with Rabbi Gerson. Refreshments will be served, and the event will conclude with Havdalah. Kindly RSVP to
303-399-0035 so that we can prepare the necessary amount of food and materials.

Pioneer Jews at Ten Thousand Feet
Tuesday, October 20, 7:30 PM

New York native and long-time Leadville resident Bill Korn tells the tale of how a group of pioneer Jewish merchants and barkeepers formed a community at two miles high, building a temple, maintaining a cemetery, and birthing one of the most well know department stores in the world. Using original artifacts and photos from the Leadville in the 1800s, You will be transported back to a time when a vibrant Jewish community thrived in this tucked-away corner of our high country. RSVPs strongly requested. $5.00 suggested donation. In cooperation with Kavod On the Road. Information: 303-399-0035. RSVP
HERE
.
Rodef Shalom Book Club
Thursday
, October 29, 7:30 PM
The latest Book Club reading will be Charles Belfoure's The Paris Architect at the home of Barbara and Steve Zimmerman. There is no charge for attending. Please notify the office, (303) 399-0035, if you are planning to attend.


Shabbat Babysitting Services
Babysitting Services are now available at Congregation Rodef Shalom from 9:30 am - noon during Shabbat Services in the first Preschool Classroom. Please come and join us!
Rodef Shalom Shabbat Youth Programming
Rodef Shalom now has Youth Programming on Shabbat for ages 5 and up. Our Mini Minyan program for 5-11 year olds is at 11:15 AM. More information will be coming soon about programming for older children that will start in October.
Calling All Families and Kid's Who Love Shabbat and of Course our Feather Friend T'Fillah Toucan. This Shabbat and Every Shabbat 11:15 AM at Rodef Shalom. Join a great group of friends and family for the Highest Rated Tot Shabbat in Denver (Voted on by a a highly scientific Gallup Poll of course). Bring your Fun, Bring Your Friends, Bring Your Noise, Bring Your Jungle Adventure. Be Ready for a Super Shabbat Story!

Gift Shop

Do you need wedding, B'nai Mitzvot, holiday ritual and unique gift items? Come to your gift shop! Each purchase is a direct donation to the synagogue. Thank you! - The Barbaras
Bingo
Help Rodef Shalom get it's game on. We need 6-8 volunteers for our weekly Sunday Bingo session. Contact Gayle Bush or to sign up, click
here
.
Plaques and Leaves
Memorialize a loved one and support Congregation Rodef Shalom. Have a bronze memorial plaque engraved with their name and the date of their death. The light by the plaque is illuminated for the week of their yahrzeit. Cost: $500. Engrave a leaf for the Tree of Life in the Sanctuary. Cost: $180.

Lynne Montrose Memorial at Regis
Sunday, October 11, 2:00 PM
Rabbi Gerson is in search of a black bag with a shoulder strap that contains his tallit and tefillin and some other personal items, last seen in the Rodef Shalom Lobby during Sunday Minyan on Sept. 27. If you might have come across it in passing, please notify him at This email address is being protected from spambots. You need JavaScript enabled to view it. .
Hearing Assistive Devices
Rodef Shalom now has hearing assistive devices available to congregants. They are located in a small 3 drawer unit on the far right of the glass shelf to the right of the sanctuary doors in the lobby. For more information, contact the office.
Good Scents
Please be considerate of others and refrain from using scented products when coming to pray.
Disclaimer
Events outside of Rodef Shalom are listed for your information and are not necessarily endorsed by Rodef Shalom.

Community Events
Fall Classes at CAJE
Classes include exploration of the afterlife, becoming a better person, and the book of numbers. For more information, visit www.caje-co.org.
A Jewish Response to Addiction & Recovery
We are pleased to announce that we are starting to offer All Inclusive weekly addiction support groups for individuals and their families suffering from addictions.
Weekly meetings:
Thursdays at Temple Sinai, 7:00 PM

Tuesdays at BMH/BJ , 7:00 PM

Tuesdays at Har Ha Shem Narcotics Anonymous, 6:30 - 7:30 PM

Monday at Har Ha Shem Overeaters Anonymous, 12-1:30 PM
For information please call Betsy 720 941 2655 or email This email address is being protected from spambots. You need JavaScript enabled to view it. .
Intro to Judaism
Fall series begins October 15

Thinking about converting to Judaism or know someone who is? Want to know more about Judaism yourself? ITJ is the series for you! Taught by rabbis and leading educators, this 28 week class will give you an overview of our holidays, lifecycle events, our history and more. Our flexible attendance policy makes the series perfect for busy people! For more information please call Betsy (720) 941-2655 or email her at This email address is being protected from spambots. You need JavaScript enabled to view it. .
Jewish Genealogy Seminar
Annual All-Day Seminar with Ron Arons
Sunday, October 18, JCC Social Hall, 9:00 AM - 4:00 PM, 350 South Dahlia St, Denver
There's still plenty of time to register for our seminar. If you haven't already, be sure to sign up now! There are TWO ways to register: send a check by mail, or register online using the
MACC website
. Information: Elaine Levy at 303-695-0132 or This email address is being protected from spambots. You need JavaScript enabled to view it. .
Healing Our Youth: Get Educated!
Monday, October 19, 6:00 PM, Temple Sinai, 3509 S. Glencoe St., Denver
Panel presentation and resource fair for anyone who is interested in improving the lives of our youth. Free and open to the community. Click
HERE
for Flyer.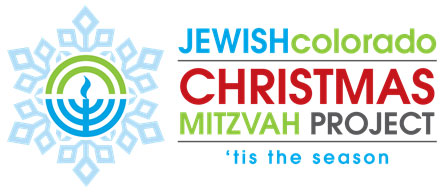 Sign-up NOW to volunteer with the JEWISHcolorado Christmas Mitzvah Project! Join this community wide effort and lend a hand to local hospitals, local hospitals, assisted living facilities, shelters and other organizations over the Christmas holiday. We will match you with a project on either
December 24
or December 25
. No special skills are required. Examples of volunteer tasks include preparing meals, collecting gifts, answer phone calls, facilitating activities and staffing gift shops.
Click here
to sign up to volunteer. Please invite your friends and family to join you. The more the merrier! Questions, please contact Laura Don,
This email address is being protected from spambots. You need JavaScript enabled to view it.
/ 303-316-6476.
The Great Big Challah Bake Colorado!
October 22nd, 7-9pm at the Denver Marriott Tech Center.
Unite with hundreds of Jewish women across the community (and thousands more across the world). Discover the technique of Challah making from scratch and the mystique of this time honored tradition. Hear Singing Sensation DASI as the dough rises. Share the beauty of Shabbat with friends and family. Take home two ready-to-bake loaves. Click
Hazon Colorado 2015 Scholarship Opportunities
Hazon offers scholarships to people from the Denver and Boulder areas for multi-day Hazon events happening around the country and in Israel. Get inspired by national programs and like-minded leaders! Click
HERE
for more information.
Jewish Baby University Events
Click
HERE
for complete listing of events.
PJ Library
FREE Children's books for Jewish children ages 6 months to 5 years old! PJ Library is now available to families in Colorado to receive one FREE book per month! The first books are scheduled to be mailed in July. Don't miss out on this amazing opportunity! Enroll
HERE
.
Jewish & Widowed Events
October *Anniversary* Dining Event
Sunday, October 11, 6:00 PM
Brio Tuscan Grill at the Cherry Creek Shopping Center
It's the 2-year anniversary of the J&W dining group! Join us for the celebration!
The reservation is under "Goodman." RSVP by October 9th to Sherry Goodman at
This email address is being protected from spambots. You need JavaScript enabled to view it.
or 303.972.0858.