QUICK LINKS...
SHABBAT INFO...
Yitro
January 30, 2016 - 20 Shevat 5776
Light Candles: 4:58 pm
Shabbat Ends: 5:59 pm
Torah / Annual & Trienniel: Exodus 18:1 - 20:23
Haftarah: Isaiah 6:1 -7:6; 9:5-6
SATURDAY SCHEDULE...
9:00 am
Shul-Bucks Shabbat Coffee House, Social Hall
9:30 am
Shabbat Services, Sanctuary
9:30 am
Babysitting, 1st Preschool Classroom
10:00 am
Program for 2nd- 5th Graders, 2nd Preschool Classroom
11:15 am
Kids Kiddush, 2nd Preschool Classroom
11:15 am
Mini-Minyan, Youth Lounge
11:15 am
Tot Shabbat, Library
GOOD & WELFARE...
Todah Rabbah to ...
Dan Hyman & Martha Sack for sponsoring last week's Kiddush in honor of Dan's 43rd Bar Mitzvah anniversary
GET INVOLVED...
Gift Shop
Do you need wedding, B'nai Mitzvot, holiday ritual and unique gift items? Come to your gift shop! Each purchase is a direct donation to the synagogue. Thank you! - The Barbaras
Bingo
Help Rodef Shalom get it's game on. We need 6-8 volunteers for our weekly Sunday Bingo session. Contact Gayle Bush or to sign up, click HERE.
Plaques and Leaves
Memorialize a loved one and support Congregation Rodef Shalom. Have a bronze memorial plaque engraved with their name and the date of their death. The light by the plaque is illuminated for the week of their yahrzeit. Cost: $500. Engrave a leaf for the Tree of Life in the Sanctuary. Cost: $180.
Hearing Assistive Devices
Rodef Shalom now has hearing assistive devices available to congregants. They are located in a small 3 drawer unit on the far right of the glass shelf to the right of the sanctuary doors in the lobby. For more information, contact the office.
Good Scents
Please be considerate of others and refrain from using scented products when coming to pray.
Disclaimer
Events outside of Rodef Shalom are listed for your information and are not necessarily endorsed by Rodef Shalom.
The most dramatic of events within our forthcoming USY Reunion Weekend will be a Spaghetti Dinner & Talent Show, on Saturday evening, February 27 at 7:00 PM.
Here's where we need your help ...
Musical acts, dance numbers, short comedy routines, stupid pet tricks, and anything else that your imagination produces are all wanted and welcome! Prizes and certificates will be awarded. Please join the spirit of fun! Call or email Connie Suson today to register your act: 303-399-0035 or // This email address is being protected from spambots. You need JavaScript enabled to view it. /" shape="rect" linktype="1" alt="http:// This email address is being protected from spambots. You need JavaScript enabled to view it. " target="_blank" style="color: rgb(0, 149, 148);"> This email address is being protected from spambots. You need JavaScript enabled to view it. .
Rodef Shalom's Bingo Blast!
THIS SUNDAY, January 31, 3:00 - 5:00 PM, Social Hall
Get ready for some good 'ole family fun! Come to Rodef Shalom for free nosh, prizes, babysitting and practically free bingo! Just a nominal fee per card. Lots of fun for everyone! RSVPs welcomed so that we can prepare properly. RSVP
HERE
or call 303-399-0035. Can't wait t
o see you there!
Walk-ins welcome to attend.

Save the Date!
IT'S OUR DIAMOND ANNIVERSARY!
Was your life cycle event held at Rodef Shalom? Do you have photos of a special time at Rodef Shalom? If so, we would love to include them in our Diamond Celebration Event! Contact Connie at 303-399-0035 or email photos to:
This email address is being protected from spambots. You need JavaScript enabled to view it. . All originals will be scanned and returned promptly!
Soup's On!
This year's Soup's On sale will be from February 17 - 19. Click HERE for t

his year's menu of delicious and warming soups

from Mark Millenson!

Remember, proceeds will benefit the Rodef Shalom kitchen!

Scholarships Available for 2016 Youth Travel to Israel and Jewish Summer Camps
Scholarships are available through the Bloom Scholarship Fund for Rodef Shalom youth who would like to take an organized study tour to Israel this summer, or attend a Jewish Summer Camp, but are unable to afford the expense. Click
HERE
for information about the scholarship and application. Applications are due by February 15, 2016.
Tuesday, February 2, 6:30 PM, at the home of
Michael and Rabbi Sara Gilbert
Minyan on the Move is a traveling weekly minyan bringing the experience of Mincha or Ma'ariv to the community. Every Tuesday evening, the location varies between members' homes. Call the office for more information or to be placed on a mailing list. If you would like to host an evening, please contact the office at 303-399-0035 or Kay Shaw.
Rabbi's After Kiddush Tish
Saturday, February 6, 12:30 PM, Social Hall
Join Rabbi Gerson for songs, spirit and study. Free and open to all.
Information: This email address is being protected from spambots. You need JavaScript enabled to view it. or 303-322-0150.
Kabbalat Shabbat @ Home
Friday, February 12, 6:30 PM, at the home of Debbie Ginsburg
Welcome Shabbat properly with a warm and inclusive program, surrounded by other Rodef Shalom members. Kabbalat Shabbat @ Home is a Shabbat service, led by Claude & Joe Brachfeld in a congregant's home. Following the service there's a potluck dinner with salmon provided by the synagogue, and cold, dairy side dishes or desserts provided by the participants. No reservations required. Questions? Contact Fran Cohen at This email address is being protected from spambots. You need JavaScript enabled to view it. .
Kavod on the Road & Rodef Shalom Present:
Love Makes You a Believer with Rabbi Ted Stainman
Thursday, February 18, 11:00 AM, Rodef Shalom
One of the most profound questions a human being can ask is how can we believe in God. Our traditions offer the following answer. It is love that makes us believers. Love is the path that leads people from doubt to faith. When we meet we will talk about how love paves the road from doubt to belief."Free and open to the community, although advance reservations are requested. Donations accepted. RSVP (303) 399-0035 or This email address is being protected from spambots. You need JavaScript enabled to view it. .
Life Line Screening
February 29, 9:00 AM - 4:00 PM, Rodef Shalom
Congregation Rodef Shalom is pleased to offer a preventive health event. Life Line Screening, a leading provider of community-based preventive health screenings, will host their affordable, non-invasive and painless health screenings on 2/29/2016. Five screenings will be offered that scan for potential health problems related to: blocked arteries which is a leading cause of stroke; abdominal aortic aneurysms which can lead to a ruptured aorta; hardening of the arteries in the legs which is a strong predictor of heart disease; atrial fibrillation or irregular heart beat which is closely tied to stroke risk; and a bone density screening, for men and women, used to assess the risk of osteoporosis. Register for a Wellness Package which includes 4 vascular tests and osteoporosis screening from $149 ($139 with our member discount). All five screenings take 60-90 minutes to complete. In order to register for this event and to receive a $10 discount off any package priced above $129, please call 1-888-653-6441 or visit
www.lifelinescreening.com/community-partners
.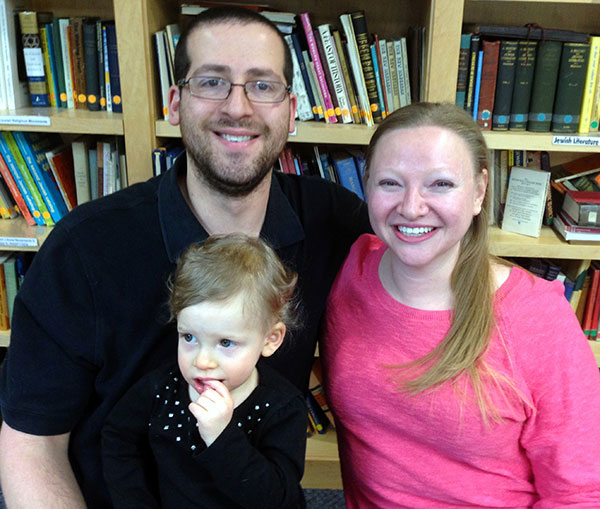 Elissa and Joshua Flaumenhaft
both attended Indiana University in Bloomington at the same time. Even though they later found out they lived near each other - and probably saw each other on campus - it wasn't until a few years later that they actually met through JDate. By then they were both living in Indianapolis, Joshua's home city, and where Elissa was studying toward an MS degree in Biology at Indiana University-Purdue University Indianapolis.
Elissa, who is from Cincinnati, studied Biology and Spanish at IU before moving to Indianapolis to work on her Master's Degree and start her career. Meanwhile, Joshua studied Informatics at Indiana. That was the university's fancy title for Computer Science. After graduation, Joshua returned to Indianapolis where he worked in his field until he met Elissa in 2006. One year after meeting, Josh proposed and they were married in Cincinnati in 2009.
After finding herself without a job in 2008, Elissa came out to Colorado at her brother's suggestion. Within a week she found a job here and two weeks later she and Josh moved to Westminster. Both Josh and Elissa are working in their chosen fields, he as a systems administrator for a government contractor and she as a scientist for a non-profit tissue bank that specializes in musculo-skeletal tissues for transplantation and repair. Rodef Shalom member Judy Fishman works for the same company, which became an important factor in the Flaumenhafts finding their way to Rodef Shalom.
Josh grew up in a Conservative home, attended Jewish day school through the fifth grade, and today keeps a Kosher home with Elissa and Hannah, their nearly two year old daughter. Elissa grew up in a Reform household, attended Jewish summer camp, and went to Israel with NFTY (North American Federation of Temple Youth) in 2000.
When the family moved from Westminster to Aurora, they joined Beth Shalom in Littleton and that's where Hannah was named. After making another move, this time to Parker, they thought about finding a new synagogue that could meet their respective religious needs. That's when Judy Fishman told Elissa about Rodef Shalom and now they are a part of our great community.
Hannah loves to take her parents to museums and the zoo, a favorite place for all of them. Both Josh and Elissa are avid sports fans. Josh remains a loyal Colts fan and Elissa favors the Bengals. Both enjoy volunteering for various charities and supporting numerous causes. Elissa is a sometimes-runner and a lover of all things arts and crafts. She is also a professionally trained singer of opera and classical music. Josh enjoys cooking for the family and hanging out with their American Bulldog watching football.
Please help us welcome Elissa, Josh and Hannah.

In the Community...
A Jewish Response to Addiction & Recovery
All-inclusive weekly addiction support groups for individuals and their families suffering from addiction are being held at local synagogues. ClickHERE for details.
HABITAT HAPPENINGS - 2016 begins with two of our signature events
Soup Cook-Off and Dinner
Saturday, January 30, 6:30 - 8:30 PM,
Christ the King Catholic Church, 8th Ave and Elm St., Denver
Click
HERE
for details.
Books for Bricks
February 8 - 15, First Unitarian Universalist Church, E Hampden Ave and S Colorado Blvd, NE corner
Click
HERE
for details.
No Slavery, No Exceptions Action
Thursday, February 11, 6:00 - 7:30 PM,
Shorter Community AME Church, 3100 Richard Allen Ct., Denver, CO 80205
Click HERE for details.

Colorado Coalition for Genocide Awareness & Action
Friday, February 19, 7:30 - 9:00 AM
Holiday Inn Select - Cherry Creek
455 S. Colorado Blvd., Denver, CO 80246
Click HERE for details.
Jewish Baby University Events
YAD Events:
YAD Shabbat - Friday, February 5, 6:00 PM, Rodef Shalom
YAD Ski Day - Sunday, February 21, Arapahoe Basin
Click
HERE
for more information on these and other YAD events.
Choices in Concert: An Evening with Itzhak Perlman

Thursday, February 25, 7:00 PM, Boettcher Concert Hall at the Denver Performing Arts Complex
. Click
HERE
for details.